Innovative, comfortable, and luxurious non-skid decking for your boat

Riviera Boat Club is your Seadek certified installer in the Alpes Maritimes
The Seadek decking provides your boat with innovative protection that is
100% customizable for a unique look.
A real alternative to teak coverings, non-skid paints or even molded non-skid
standard products, SeaDeck non-skid decking is the ideal solution for your boat.
Made from ultra-compressed PE/EVA foam, our soft, lightweight decking protects the hull from the elements of climat and absorbs shock for added confort on the water. ​ Its ultra high resistance 3M™ adhesive ensures a perfect hold over the years.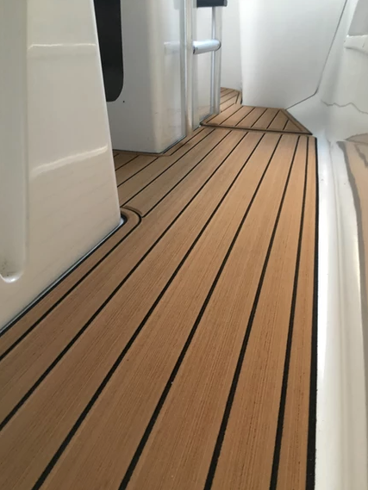 NON-SKID, LIGHTWEIGHT & COMFORTABLE
Ultra compressed foam decking
Offers comfort and softness to your feet
Does not burn the soles of the feet in direct sunlight.
100% CUSTOMIZABLE & UNIQUE
Tailor-made service with our teams based in France
Unlimited design, texture & color combinations
Very easy maintenance.
PROTECT & IMPROVE
Protect surfaces against scratches, US rays and stains
Shock absorption for better comfort
Reduce footsteps on the hull – Ideal for fishermen.
Choose the combination that suits you

Let's build your project together

Via the form by clicking on the button and provide us with as much information as possible:​
Brand, model and year of your boat
Location of the boat
Description of the area on which you want to lay your SeaDek decking
Tell us your preferences: colors, design of teak lines, logo and others customizations​