Scubajet: explore the seabed !
The Scubajet underwater scooter: the unique experience of scuba diving.

The Scubajet underwater scooter arrives in the Riviera Boat Club fleet! Distributor of the brand on the Côte d'Azur and Monaco, we offer these diving kits for all playgrounds under and on water for sale and rental.
Totally suitable for scuba diving, snorkeling or swimming near rocks in the turquoise waters of the Mediterranean, the scubajet pro is an ultra-maneuverable mini underwater scooter thanks to its compact size and extreme ease of use.
Made in Austria, this little gem of technicality has a removable handle equipped with a secure control that propels the diver underwater at a speed of up to 8 km/h when diving and 11 km/h on the surface.
Its upper part equipped with an aluminum rail allows the Scubajet to be fixed on a kayak or a paddle and allows you to carry a camera or diving lights during your underwater excursions.
Using the push buttons located on each handle, it is easy to control the speed of this 3kg underwater thruster which offers 6 different powers.
Intended for both professional and recreational divers, the Scubajet Pro is the nautical toy that offers the unique experience of gliding smoothly under the surface of the water and limiting kicking effort.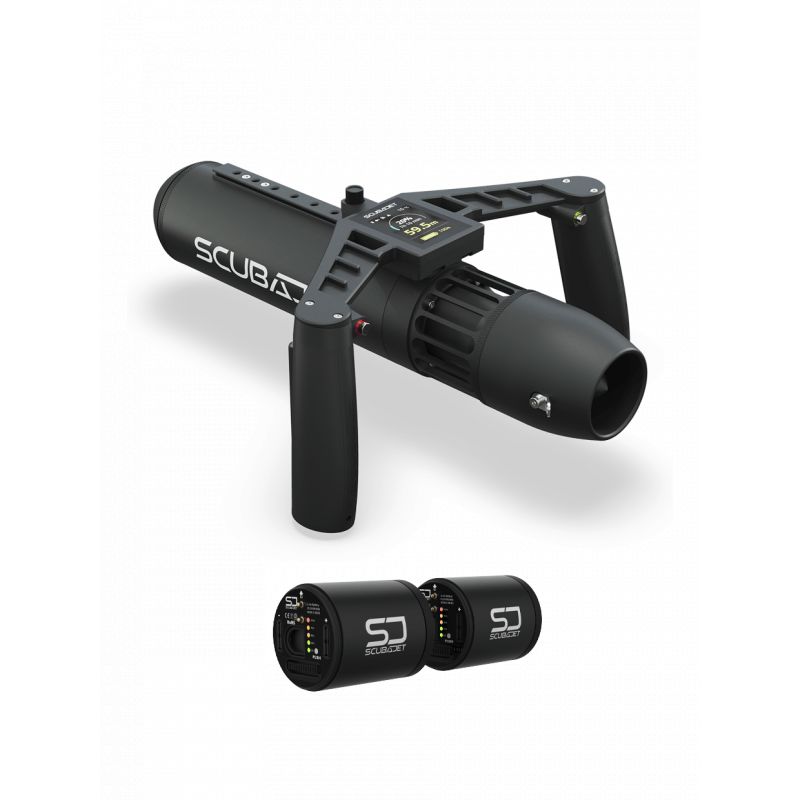 Scubajet Pro Underwater Kit: a concentrate of technicality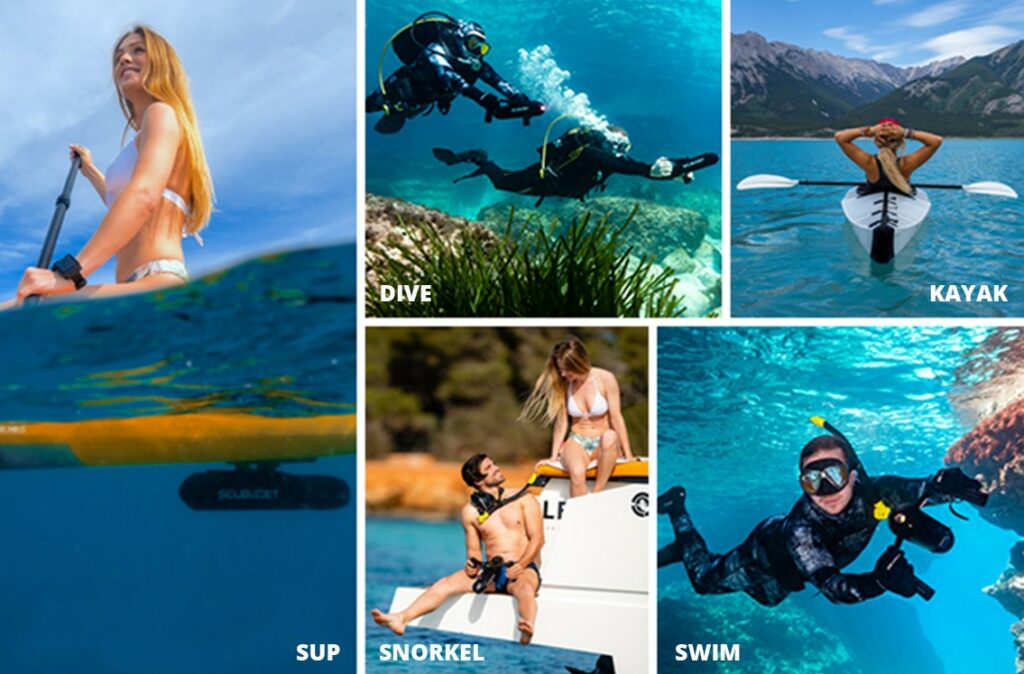 The Scubajet pro is one of the most powerful underwater scooters on the market thanks to a 1000 W motor!
Equipped with an LED screen, it allows the diver to obtain valuable information during its use such as the remaining autonomy, the instantaneous depth or the water temperature.
Waterproof up to 45 meters deep, this underwater thruster is the most compact and light in the world with its 42 cm long and its diameter of only 8 cm.
Compliant with European and airline standards, the 200 or 400 Wh batteries depending on the model, allow autonomy of 2 to 4 hours in conditions of minimum use of the speed and allow you to carry Scubajet Pro in hand luggage during your trips by plane. It's up to you to explore the seabed around the world if you wish!
Technical characteristics

Power: 1000W
Depth rating: 200 feet | 60m
Water speed: up to 7 mph | 11km/h
Underwater speed: up to 2 m/s | 2m/s
Battery: lithium ion
Battery capacity: 2x 100Wh = 200Wh expandable to 4 x 100 Wh = 400 Wh.
Battery life: up to 2h | 4h with the Double Your Range PRO XR Kit
Optional LED light: 1,500 Lumen at 6,000 Kelvin with an angle of 120 degrees
Order your Scubajet Pro Underwater Kit here