Fireworks punctuate summer life in Cannes. Every week during the summer, the pyrotechnic festival sets the sky ablaze opposite the Croisette and attracts thousands of spectators for the quality of this thirty-minute sound and light event. At aperitif time, embark for an unforgettable evening at sea, in the front row of this magical spectacle and enjoy with family or friends an aperitif at sunset on the undulating Mediterranean.
Cannes pyrotechnic festival evening at sea
This is one of the shows not to be missed during the summer, the Cannes pyrotechnic festival dazzles spectators every week with its fireworks competition in July and August. Fired from 5 barges installed at sea, the multicolored rockets spin in the sky to the rhythm of music chosen according to a given theme.
To enjoy this grandiose spectacle, forget the crowds and board our 100% electric trimaran for an exceptional boat evening in Cannes where you will have the privilege of being as close as possible to the show!
Departing from Mandelieu la Napoule, from the pontoon of the Golf island on the banks of the Siagne, you will crisscross the Mediterranean towards the bay of Cannes for an anchorage alongside the other outboards and yachts that will come to attend the pyrotechnic festival.
On board, while waiting for the first rockets which will soar into the sky around 10 p.m., you will sip a glass of rosé around a gourmet aperitif board.
PRICE: €750 for 10 people
The program of the Cannes pyrotechnic festival
As every year, the Cannes pyrotechnic festival will honor 6 countries who will compete in the air to win the Vestale d'Or, the prestigious prize awarded to the winner. To decide between them, in addition to the jury made up of fireworks professionals and the world of entertainment, the public will be invited to vote for their favorite fireworks display. Don't forget to vote, prizes are up for grabs! More information about the competition here.
Competing this year: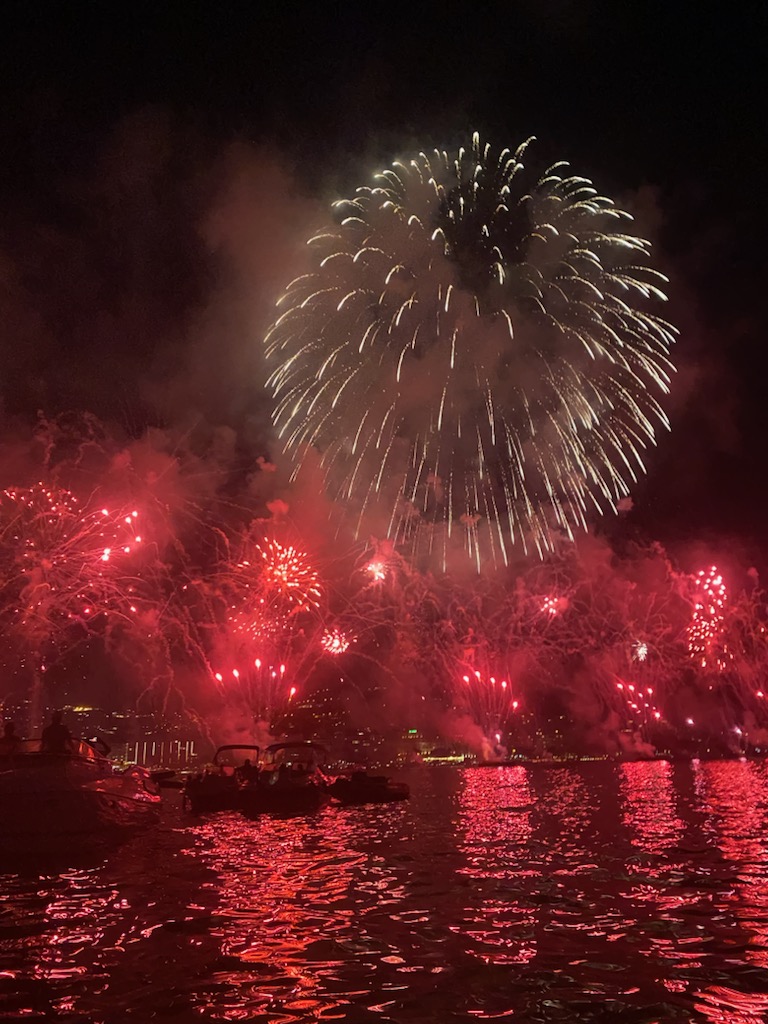 Sunset and party boat in Cannes
During the summer season, boat parties are one of the unmissable activities on the Côte d'Azur. Apart from the fireworks, you can also attend a spectacular spectacle, that of the sunset. Between the Lérins Islands, cradled by the Estérel Massif, facing the bays of Cannes and Mandelieu, the moments spent at sea at the end of the day promise a unique and privileged experience!
Treat yourself to a few hours at sea in the evening for a festive aperitif, a romantic evening or an afterwork at sunset. Let yourself be guided by our skipper who will make you discover the most beautiful spots at sea to admire along the coast.
For more information on evenings at sea, contact us!